Success stories
Kim (Katie's mentor) talks about the impact of SOHO on her and her mentee's life
My experience at SOHO has been one of huge impact. It is amazing to look back and remember what has developed over the course of my journey with my mentee – we have experienced challenges, fun and laughter, and sometimes frustration. Most significantly, SOHO has shown me that two women from very different backgrounds can be so similar in their shared view on life. This sense of identity was a topic I constantly thought about throughout the year, and in the end, my mentee and I agreed that who you are is who you decide to be.
It was moving to see my mentee's growth in self-discovery as I grew alongside of her, and at the same time, it was unexpected to see my mentee's full range of emotions. From laughing at jokes and flicking green paint to figuring out what to do about a school bully and talking through disappointment, we challenged it all together. As a direct result, my SOHO experience has greatly improved my personal relationships. More now than ever before, I appreciate the hard work that builds a strong relationship and the importance of encouraging those you love to be entirely themselves. The SOHO staff did a wonderful job pairing the mentors with their mentees. I'm proud to have worked with such an awesome group of unique women and girls who all brought exciting ideas to the experience.
My time with SOHO was not just about making a beautiful room for my mentee;  I wanted to make a space where she feels safe and at ease, where she can focus on school work, self-improvement, and fun, and where she feels proud of herself and her accomplishments. I look forward to continuing my relationship with my mentee to see where life takes us! SOHO is a SOHO is a very special experience and I hope you will find out for yourself what it is like!
Odalis tells us about her mentor, Lisette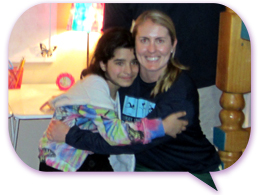 My mentor has a really amazing sense of style. Every time she comes to pick me up so we can hangout, she has an outstanding outfit on. I especially love her necklaces. She makes them work. Her smile is my favorite thing about her. It can light up a whole crowd. When I'm upset, she cheers me up. Her sense of humor is my second favorite thing about her. She tells me jokes which make me laugh. As they say, laughing is the best medicine.
When we hung out for the first time outside of SOHO, it was the best day of my life. We had so much fun…laughing, baking, and talking with her was great. We baked cookies, played with her cute dog, Belle, and talked about things. Her dog, Belle, is so cute. She even took a picture of her dog and me hugging. I smiled at the camera but then when the light flashed, Belle started licking my face. "Stop it Belle", I said between laughs. My mentor was laughing.
My mentor is a courageous young lady. She is also honest and never has told me a lie. Without her in my life, I would not be the young lady I am now. As you may want to know, her name is Lisette and she has been an amazing mentor. I love her so much and I know that she loves me back. We are sisters, forever and always.
Greysi talks about her mentor, Emma
There is someone that I really want to tell you about. That someone is a very beautiful lady, my mentor, Emma! My mentor Emma is a very trusting person. Anybody can trust her. She is warm-hearted and she is very fun to hang around with. She enjoys being with me, doing art projects at SOHO and I enjoy being with her too. My words can't explain how much I love my mentor, Emma.
The day I found out that we were getting our mentors, I was super excited because I knew that I was going to love hanging around with her. All day long I could not control my excitement. I felt like I had butterflies in my stomach. Ms. Kelly, our SOHO leader, counted "1, 2, 3, 4, 5…open your envelopes." When she finished counting I opened my envelope as fast as I could. In big letters, Emma was written on the envelope.
"Yes, yes!" I screamed out loud when I found out it was her. There was lots of screaming and happiness from all of the mentees. Then, the mentors arrived and each mentor and mentee went to different restaurants and ate together. For me, finding out my mentor was Emma was one of the best days ever of my life!
My mentor has influenced my life because she tells me what's right. She helps me on things I need help on and convinces me to do the right things and how to avoid bad things that are in my way. When I have questions, she always has the answer and helps me out.
I'm so glad to have Emma in my life. She is a very important person to me and will be for the rest of my life. Thank you, Emma, for letting me be a part of your family.
Jamia's mother on the SOHO experience and Jamia's mentor, Sarah
I chose to enroll Jamia in SOHO because I thought this would be a wonderful experience for her, especially to be around girls her own age. I wanted her to go out and meet new people. She's a very shy little girl, and I also wanted her to go and experience the world through SOHO.
I believe that Jamia's favorite part of the program is meeting new friends, and she really likes her mentor, Ms. Sarah. She likes going out on the weekends with Ms. Sarah, and she always comes back and talks about all of the exciting things that they have done.
The room renovation turned out really nice. When Jamia walked in, she was very surprised and she loved exactly what she saw.
After the program is over, I'm looking forward to having Ms. Sarah and Jamia still hang out on the weekends. I know that Ms. Sarah and Jamia both love being around one another.
Kianni's mother on the importance of mentoring and Kianni's relationship with Gretchen
Mentoring programs are a great opportunity for kids to have something to do outside of just being in the home. As a teenager, I was part of a big sister, big brother program, so I had a mentor. I know how important it is to have someone else to talk to and spend time with. It's also important to just be around other people in general. The experience that kids get from activities that they don't normally do at home is good for them, they learn new things. The program was very good for Kianni, and she has definitely enjoyed the time she has spent with Gretchen.
The room is also beautiful. Gretchen is wonderful and her family, too. They were all so wonderful when they came out. I didn't want all of the work to be on Gretchen. I wanted to do my part as a parent so we pretty much got together with Kianni's sister and her father and cleaned the room and tried to make it as accessible as possible. They did a wonderful job.
very special experience and I hope you will find out for yourself what it is like!
Barbara (Denisse's mentor) discusses the room renovation process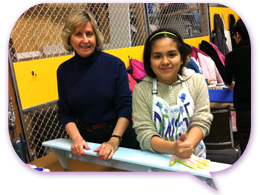 I definitely had an "It Takes a Village" experience with SOHO.  I had so much cooperation and support from the family, friends, other mentors, and of course, Shazalyn*, the interior decorator. I could not have done it without the help of my team.
I was very grateful that Laura, another mentor, offered to plan an outing away from the apartment with Denisse and Norma, her mentee. The day of Denisse's room renovation, Laura took the girls for an outdoor activity and they had ice cream together afterwards.  It was perfect.
After the girls left with Laura, our SOHO program director Kelly and the SOHO-sponsored interior designer arrived to help remodel Denisse's bedroom. Shazalyn's car was loaded with furniture and Kelly delivered Denisse's mattress in the SOHO van. After Kelly made the delivery, she alerted me that the space for the room renovation hadn't been cleared. I appreciated Kelly's warning, and with the family's help, my sister and I cleared the room so that all the rugs and furnishings could go in immediately.
My sister speaks Spanish and spoke to the family during the renovation to help translate what was happening. The family helped unload all the furniture and bring it up to the apartment. I brought a platter of food and water for the helpers, but the family also offered us food and beverages.
Many of the items for Denisse's room wore donations from friends and acquaintances. After speaking with Shazalyn's assistant, I learned that all the furniture had been donated by the interior designer's friends.  One of her acquaintances made a folding screen with fabric on both sides, about 8 feet high, to separate the space from the living room area.  It's a work of art. A friend of mine had offered to make a quilt for Denisse and another friend donated a storage unit that went to another mentee. Yet another friend donated bolts of material. We were unable to use the material for Denisse's room, so we donated it to a group of quilters in Springfield who make quilts to be sent to Africa for Lutheran World Relief.
Shazalyn had only seen Denisse's space once, but measured carefully, and everything fell into place from there. It took only two hours for her to complete the room with her assistant.  I have worked with decorators and have a niece who is budding decorator, so I value their expertise and skill. Shazalyn and her assistant were no different, and I was impressed with their work.
I am extremely grateful to have met such a wonderful family and mentee through the SOHO program and for the constant support and encouragement from friends, family and SOHO's staff.  It was a terrific experience to work with a gifted decorator, Shazalyn Cavin-Winfrey, and to learn about the generous contributions from her cadre of decorators and artists.  My sister was also thrilled to meet the family and help with the room renovation. I feel so fortunate to have had this exciting opportunity.
*Shazalyn C. is an interior designer who volunteered to help SOHO with the room renovation process for mentors who had challenging room dynamics to work with.