Founder and Executive Director, Space of Her Own, Inc.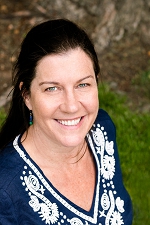 Linda Odell
Director of Crime Prevention Programs, City of Alexandria
SOHO Mentor since 2004
linda@spaceofherown.org
Linda Odell has served disadvantaged and court-involved youth and their families throughout her career. She began her work in Colorado, initially volunteering as an Americorps VISTA at a shelter for runaway and homeless youth, and subsequently as a classroom teacher for children with emotional and behavior problems. Linda also worked with a state-wide residential treatment provider as a director of an independent living program. She developed curricula and programming to assist juvenile offenders in their transitions from group homes to the community. Linda moved to Costa Rica after a decade, where she served as a guidance counselor at an international school and developed service-learning programs for middle-school students. Every year, Linda looks forward to inspiring volunteers to join Space of Her Own and witness the program's development through their enthusiastic efforts.
Linda is currently employed by the City of Alexandria, raising funds and developing mentoring, truancy and shoplifting-prevention, community service, parenting and other crime-prevention programs for the 18th District Court Service Unit.  She envisioned and co-created the SOHO program and founded the nonprofit, Space of Her Own, Inc. in 2011. Linda earned her B.A. in Cultural Anthropology from University of Pittsburgh and her M.A. in Special Education from University of Northern Colorado. She recently completed Georgetown University's Nonprofit Executive Management Certificate Program.
President

Liz Scott, Ph.D.
CEO and President, Brighter Strategies
liz.scott@spaceofherown.org
Dr. Elizabeth Scott first became involved in SOHO as a consultant when the program received a grant for strategic planning services through ACT for Alexandria in 2012. Over the years, Liz has watched SOHO develop and grow as an organization, and was honored to join the board in 2015. She was drawn to the organization because of its deep commitment to supporting youth in the local community as well as the program's focus on fostering an appreciation for the arts.
Liz is a nonprofit consultant whose work focuses on strategic and operational planning, board governance, and nonprofit capacity building. She utilizes these skills as SOHO's Board Chair and as a member of the governance committee. In addition to her consulting and volunteer work, Liz holds a faculty position at The Chicago School of Professional Psychology where she teaches in the Industrial Organizational Psychology master's program and the Organizational Leadership doctoral program. Liz holds an undergraduate degree in Sociology and a master's degree in Organizational Sciences from George Washington University, as well as a second master's and Ph.D. in Human and Organizational Systems from Fielding Graduate University in Santa Barbara, California. She lives in Falls Church, Virginia with her husband and three dogs.
Vice President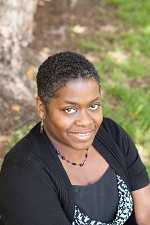 Charon Johnson
Director, Tenant Services, Sodexo Corporate Services at The International Monetary Fund
SOHO Mentor since 2012
charon.johnson@spaceofherown.org
Charon Johnson has been an admirer of the arts and a tireless supporter of the positive development of young women. The impact of her experience as a West End mentor in the 2012-2013 school year has fostered Charon's commitment to SOHO and its mission, and it has been an inspiration for her to witness the evolution of the SOHO girls and their mentors.
Charon has served in many forms through extensive community service efforts in the past 25 years. In addition to the various service programs she has supported through her national sorority membership, Charon has served as a mentor to young professionals in the Facility Management industry. She has been a public servant for the past ten years, serving as a Division Chief of an organization responsible for the planning, design and construction of a variety of spaces for over 6 million square feet of government facilities. Charon is a Howard University alumna with a Bachelor of Science in Interior Design. She has been a Certified Facility Manager (CFM) since 2003 and an instructor in George Mason University's Facility Management certification program since 2009. The mother of three spends her personal time with family and her bonsai.
Treasurer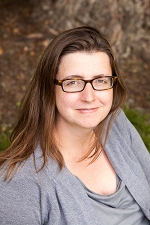 Andrea Denny
Environmental Analyst, US Environmental Protection Agency
SOHO Mentor since 2006
andrea.denny@spaceofherown.org
Andrea Denny has been a volunteer with SOHO since 2006, mentoring two girls and participating in three room renovations. She has also participated in strategic planning and helped organize events and fundraisers for SOHO and joined the SOHO Board as Treasurer in November 2013. Andrea became interested in SOHO as a creative outlet and opportunity to support young women, and has stayed involved after being inspired by the dedication of SOHO volunteers and the potential of the program to be a model for other communities.
Outside of SOHO, Andrea is an environmental analyst with the US Environmental Protection Agency, supporting local governments with energy and climate change policy. Andrea has an honors B.S. in Chemistry and a M.S. in Geography, both from Penn State. She has lived in Alexandria, VA with her husband since 2005 and has two children.
Secretary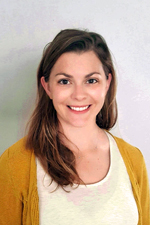 Julie Hawkins
Part-time Consultant, ICF International
SOHO Mentor since 2015
Julie.hawkins@spaceofherown.org
Creative Director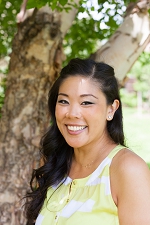 Cynthia Chin
Design Patent Examiner, United States Patent and Trademark Office
cynthia.chin@spaceofherown.org
Cynthia Chin began her work with the SOHO program during the 2008-2009 school year. She has been involved in community service throughout her life, and was excited to find a program like SOHO that offered the unique combination of working with kids, the arts, and giving back to the local community. Cynthia initially volunteered as a mentor to Ashley, who she still meets with on a regular basis. Ashley has since grown from a quiet 9-year-old to a lively and confident teenager, and her transformation has inspired Cynthia to continue volunteering with the program. Cynthia's greatest desire is to see the program blossom, and she decided to become a board member in 2012 to play a larger role in SOHO's development. Cynthia currently serves as the Creative Director.
Cynthia is a native of the Washington, D.C. area. Born in Alexandria and raised in Fairfax County, she now lives and works in Old Town, Alexandria. Cynthia earned her B.A. with a double major in Digital Arts and Media Studies from the University of Virginia. After graduating UVA, she worked as an Interactive Graphic Designer for the Department of HHS' Office on Women's Health (womenshealth.gov) and their sister site (girlshealth.gov) aimed at promoting healthy, positive behaviors in girls between the ages of 10 and 16.  Cynthia currently works as a Design Patent Examiner for the Department of Commerce.
Board Member at Large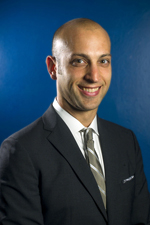 Founding Attorney, Tax Exempt Solutions PLLC
btakis@taxexemptsolutions.com
Board Member at Large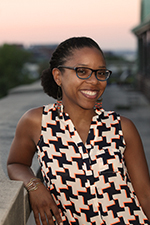 Courtney Dixon
Senior Acquisition Consultant with JAB Innovative Solutions
SOHO Mentor since 2012
courtney.dixon@spaceofherown.org
Courtney began her journey as a SOHO mentor in 2012. During that time, she realized the difference SOHO made in the lives of the young ladies involved. Courtney's passion for youth and desire to make an impact inspired her to become a board member for SOHO in 2014. As a board member, Courtney intends to help grow the incredible non-profit and expand its reach to young ladies in need.
Courtney Dixon has volunteered with youth for the past 14 years. She has worked with many youth development programs including after-school tutoring, Big Brothers Big Sisters and YoungLives, a program for teen moms. Courtney is a native of Chicago, IL and a graduate of Howard University with a B.B.A. in Marketing. She was a Captain in the US Air Force and spent four years on active duty. Courtney currently works as an Acquisition Consultant in the DC Metro Area.
Board Member at Large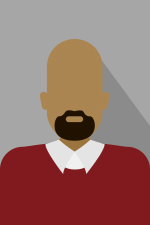 Robert Washington
Senior Accountant, Fair Labor Association
SOHO Mentor since 2013
robert.washington@spaceofherown.org
Robert Washington joined SOHO as a mentor of the inaugural Space of His Own program in the fall of 2013. The program's artistic methodology inspired Robert to become a member of the SOHO program, knowing that he would be able to work with youth in an environment of learning that encourages personal transformation for both mentor and mentee. In 2015 Robert joined SOHO's Board of Directors as a Board Member at Large to assist with the continued growth of the program. Robert considers himself a program mentor first and continues to be a meaningful part in the life of his mentee, Emerson.
Robert was born and raised in the vibrant community of East Harlem, NY, where the city's magnificent architecture and robust street art catalyzed his passion for the arts. In cultivating his creative viewpoint, Robert attended and graduated from the famed LaGuardia HS of Music & Art and Performing Arts. He later refined his skills at Rice University, where he received his B.A. in Visual Arts & Art History with a concentration in Printmaking and Photography. Although Robert continues to work on his art independently, his mathematical and analytical thinking has helped him develop a career in finance, where he is Manager – Finance & Accounting at Hearth, Patio and Barbecue Association, and has more than 10 years of accounting and administration experience.
Board Member at Large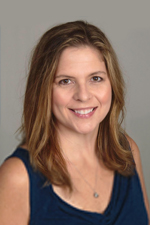 Lori Neuhauser
Sales Solution Consultant, CDK Global
lori.neuhauser@spaceofherown.org