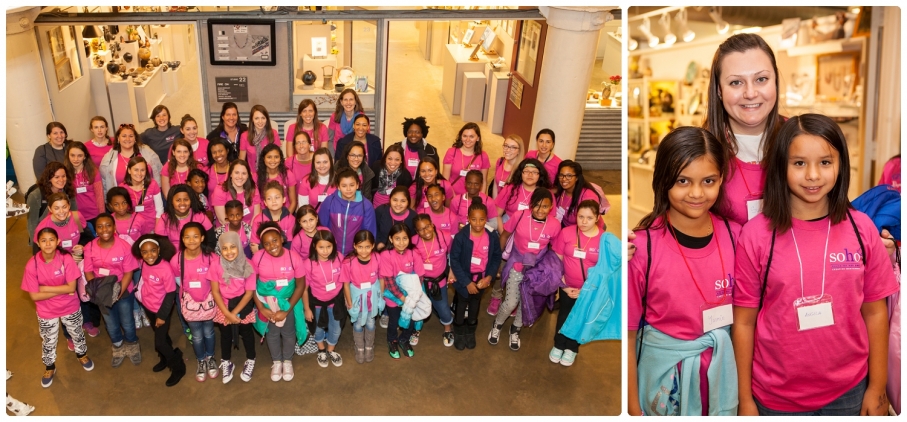 This year, both Alexandria Space of Her Own programs joined together for a Match Event adventure when each child found out who her mentor would be for the remainder of the program. Weeks of anticipation and exploration culminated in the giddy arrival of mentors and mentees to the Torpedo Factory. Participants received a pink SOHO t-shirt and backpack filled with snacks, a boxed lunch, a rain poncho, information for the day's events and $20 for travel expenses.
Each girl received a card decorated by their soon-to-be mentors, some sparkled with letters made of glitter and others decorated with dancing butterflies. On the count of three, girls opened their cards, the room erupted into smiles and girls rushed to their mentors. Youth celebrated with hugs and squeals and reveled in their newly forged bonds.
Girls and mentors then traveled to the King Street Metro by foot or by trolley, and each child was given the opportunity to navigate the DC Metro. Their first stop in DC was the National Portrait Gallery. The pairs participated in a scavenger hunt at the Luce Foundation Center and then explored the rest of the 3rd floor.  Everyone was encouraged to take selfies with their favorite portrait and upload them to social media.
After the National Portrait Gallery, it was up to the mentees to navigate their way to the Marriott Hotel in the heart of DC. Once they arrived, girls and mentors munched on snacks during a hotel career presentation. The girls learned about the origins of the Marriott and about current careers within their global network of hotels. The woman of the hour was the hotel's head chef Judy Vase, and the girls enthusiastically asked questions about her career and her favorite things to cook. After a brief tour of the hotel, the two programs came together once again and shared the best moments of the day in a SOHO circle. One mentor said with a grin from ear to ear, "It was so great to see everyone's smiles."
Girls and mentors then returned to the Metro to head back to Alexandria. Though the sun was setting and girls were tired from their exciting day, all maintained wide smiles as the Metro resurfaced. When asked what her favorite part of the day was, one mentor responded, "The museum. It was a first for my mentee, and I liked seeing how much she enjoyed it." When everyone disbanded, the sentiments were the same: it was a great day to start a future learning and growing together.
– Lily Rowny, SOHO Americorps VISTA Mentor Coordinator