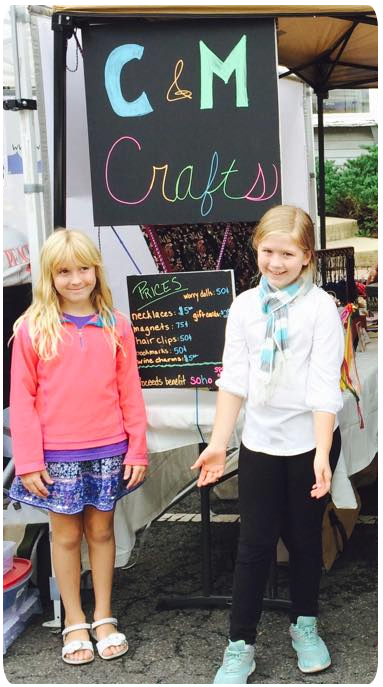 The month of December is frequently acknowledged as the start of the season of giving, but for many giving is an aspect of everyday life that is not bound by time of year, neither circumstances, nor age.
"Helping People Can Change the World"
Nine year old friends Maggie and Claire set out to make a difference because they know that "helping people can change the world." After reading about several local charities, the girls decided to support SOHO because of its worthwhile mission and they "really wanted to help girls have opportunities to do art."
Turning Creativity into Reward
As art lovers, the girls dedicated time, energy and creativity to make various crafts together. (From…to…List some examples). Then, the girls exhibited their creations for sale at the annual Art on the Avenue festival in Alexandria, with all proceeds from their sales to be donated to SOHO.
With item prices ranging from 25 cents to 5 dollars, Maggie and Claire raised $365.00 during the one-day festival!  In fact, enough money was collected to sponsor an entire room renovation so one deserving mentee can have "a space of her own." (Check out SOHO Room Renovations from previous years on the SOHO YouTube Channel.)
Lasting Impact of Charitable Giving
The girls proudly delivered the financial donation to Linda Odell, SOHO's Founder and Executive Director, and vowed they will continue to do what they can to help girls in need.
Find out today how you can make an impact this season of giving, and throughout the year by becoming a SOHO sponsor, mentor or volunteer!